Last Updated on February 2, 2023 by T Mehedi
Developed by Amazon, Fire tablets run their own "Fire OS" operating system which is based on Android. But it does not have any Google app or service. As a result, Amazon offers a lower price discount for the customer to include personalized ads from Amazon directly on the Fire tablet.
If you decide to save money on your Fire Tablet purchase by accepting their ad-supported discounts, you may wonder how bad are the ads on Fire Tablet?
Ads may interrupt you while you work on the Fire Tablet. When taking notes or watching videos, ads will pop up in front of your screen which may seem annoying to you.
Let's dig into more details. 
How Bad Are The Ads on Fire Tablet
The ads on the Fire Tablet aren't so bad, but they can be extremely annoying as you have to watch them all the time. Ads will appear on your tablet's lock screen and will also appear when you work on the tablet which can be quite disturbing. 
Some advertisement videos can last up to 30 seconds which may waste your valuable time as you can't skip those ads.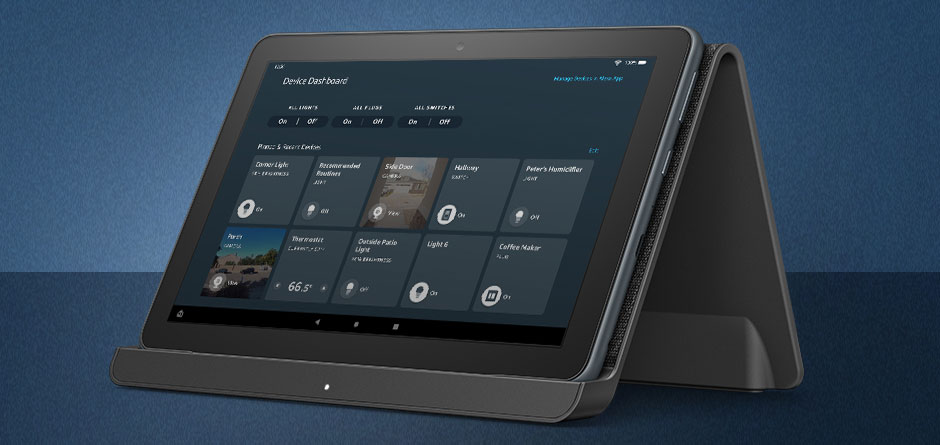 What Are Fire Tablet Ad-Supported Devices?
Tablets that feature targeted lock screen ads but come to the customer at a lower price are known as Fire Tablet Ad-Supported Devices.
If your tablet contains ads, the sponsored advertisement appears on your device's lock and home screen, then your device is an ad-supported Fire tablet. 
You can tap on these advertisements to see the details of the ads. However, to get the latest offers, you must connect your device to Wi-Fi.
Why Does Fire Tablet Come With Advertisement?
Fire tablets are designed by Amazon which is good for reading and watching movies or TV, with content presumably provided by Amazon itself.
Amazon always offers relatively low-cost hardware. They make money not by selling their devices but by connecting to the ecosystem of products and services.
So they have come up with special offer Fire Tablet devices, called ad-supported devices. They consist of personalized lock screen ads for you based on your shopping selections and browsing rituals on Amazon.
Why Adds Are Bad On Fire Tablets?
It depends on the individual whether the ads are good or bad. Some may find the ads too annoying, while others may become accustomed to the ads as they continue to use the tablet.
Here are some reasons why ads on Fire Tablet are bad.
Ads are irritating
Fire Tablet ads are typical recommendations for books, movies, music, and other offers based on the user's browsing experience. This may sound like a simple thing to you. But after a while, these ads can become irritating because you have to watch them over and over again. 
Ads can waste your time
Interesting ads will appear on the screen which can take you to the site description with a single tap. And this way, you may waste a lot of time looking at the details of the items. Besides, you may have to watch some ad videos which can take from 30 seconds to 1 minute. You may not have the option to skip the video. 
Ads can lead you to buy things and spend money unnecessarily
Many interesting ads will pop up on your Fire Tablet screen which may entice you to look at the details and buy those products. There are some items that you may not need but their attractive advertisements may push you to take those products.  And this way you may waste a lot of money unnecessarily.
Can You Turn Off Ads On  Fire Tablet? 
Yes, you can turn off the ads on your Fire Tablet screen by canceling their special offer. But Amazon won't let you cancel for free.  you have to pay to remove ads or "unsubscribe from special offers," as Amazon says.
You can remove ads from your tablet in the following ways:
1. Log in to your Amazon account from a web browser
2. Go to the list of devices and select Content and Device.
3. Find your device and look for a term that says special offer.
4. If your special offer is active, remove it by clicking on the "End Offer and Pay the Fee" pop-up box.
FAQ
Why does Fire tablet come with ads?
If you have advertisements or "Special Offers" shown on your Kindle's screen, it is because you have accepted the  "Ad-Supported discount" (formerly known as the "With Special Offers" discount) offered by Amazon.
Is it worth buying Kindle with no ads?
If you are an active reader who spends more than a few hours a day on your Kindle, then it is better to buy Kindle with no ads. Due to the fact that you're spending more time on your tablet, you'll certainly see more advertisements.
How much does it cost to remove Amazon special offers?
Amazon's menu system can also help you get there: Click "Devices" under "Account & Lists > Content & Devices.") After clicking on "Kindle," select the device you would like to delete offers from. When you're ready to proceed, click "Remove Offers" and pay the $20.
Verdict
Fire tablets are great if you don't mind advertising. Ads will not be a problem for you if you like to read and get alerts about things you want to buy. 
Otherwise, these ads can make your tablet-using experience quite unpleasant.
So, how bad are the ads on Fire Tablet? I think the answer is clear to you. 
If you have read everything in this article, you know for sure how bad the ads can be for your Fire tablet.