Last Updated on June 11, 2022 by T Mehedi
Having a drawing tablet that looks clean, and spotless is a nice experience. But unfortunately, there are a lot of chances that your devices can get dirty. Because there are many specks of dust around us that can easily make our devices look old and dirty.
And if you are a drawing tablet user, then you might have noticed that your drawing tablet's screen looks muddy. So you also might be thinking about "how to clean a drawing tablet?
Well, it can be done through some processes that are very easy and less time-consuming. 
Let's dig into this article to learn the ways of cleaning your drawing tablet. 
Why Should You Have  To  Clean Drawing Tablets:
Obviously, you should always need to clean your drawing tablet as it is a device that you use almost every day. 
If you have ever owned a smartphone then you would have known that if the touch screen is full of dirt, then it feels uncomfortable to use. Similarly, a drawing tablet that has dirt on its screen can give you a bad experience by using it.
Let's see some reasons why you should keep your drawing tablet clean :
Prevents your drawing tablet from damaging the display.
Helps to look clean and fresh. 
A clean, good-looking drawing tablet provides a good user experience. 
Good for your eyes.
Increases touch responsiveness.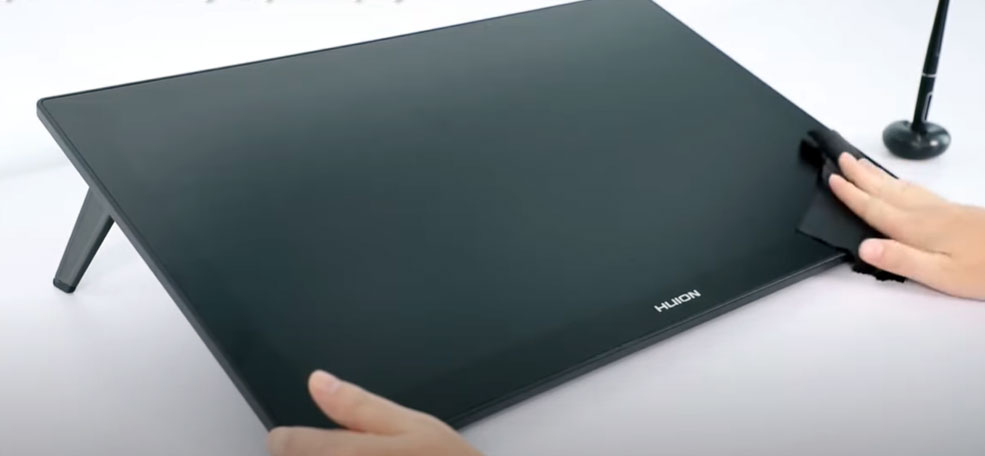 How To Clean A Drawing Tablet :
Well, we are living in a technologically developed society. So electronic devices like drawing tablets have become a part and parcel of our everyday life. We use our drawing tablets almost every day so it is almost mandatory to keep the drawing tablet nice and clean.
Cleaning the drawing tablet can enhance its performance and can give you a long time of service. 
Let's see how you can clean your drawing tablet. 
Unplug All The Cables And Accessories 
First thing is that before cleaning the drawing tablet you have to unplug all the cables such as OTG cables, charging cables, etc. Because, if the cables or other accessories are connected with the tablet, then it would haphazard the cleaning process.
Mange Microfibre Cloth 
The next thing you need to do is to manage some microfiber cloth. Make sure that it is not dirty or wet. A dry and fresh microfiber cloth can help you in cleaning the drawing tablet with ease. 
Make a Mixture Of Vinegar & Water
A mixture of vinegar and water is a great thing for cleaning the dust from the drawing tablet. Simply put a few drops of vinegar and mix water with it. Then spray it on the dry microfiber cloth. After that, gently rub the microfiber cloth over the drawing tablet screen.
Use 70% Rubbing Alcohol 
You can also use 70% rubbing alcohol for cleaning your drawing tablet. It helps to clean germs and viruses as well. This is also available in any local shop at a minimum cost.
Just put some rubbing alcohol on the microfiber cloth and wipe the drawing tablet screen all the way with the cloth. You can also clean your drawing tablet's pen by using it.
Glass Cleaner
Glass cleaner is another handy that we can easily get. It also can help in cleaning your drawing tablet. Just make your microfiber cloth wet by spraying glass cleaner on it. Then wipe the drawing tablet's screen with it. And this will clean the dust from your drawing tablet and make your drawing tablet look nice and fresh.
Precautions On Cleaning Drawing Tablet Screen:
Cleaning your drawing tablet is a good practice. By cleaning it properly, one can enjoy a smooth performance from the drawing tablet. But there are some things that should never do when cleaning the drawing tablet.
Let's see some precautions when cleaning the drawing  tablet :
Don't make the microfiber cloth too wet
Never rub the drawing tablet screen too hardly
Never use bleach or aerosol sprays in cleaning the drawing tablet screen
Liquids should never be put directly on the drawing tablet screen
Glass cleaner should not be sprayed onto the drawing tablet screen
Verdict :
A drawing tablet is a useful device that helps us in everyday work. But it should always be kept clean and fresh for a smooth performance.
So if you want to have a nice and smooth experience with your drawing tablet, then you can follow the tips mentioned in this article.