Last Updated on July 23, 2022 by T Mehedi
Almost all of the tablets have a touchscreen, which means every tablet user needs a tablet pen, commonly known as a stylus pen. This is why users should know "how to do drawing tablet pens work"
Mainly the pen which is pushed onto the screen and screen sensor feels the heat and elicits appropriate responses. The specific pen works on a specific type of tablet.
Well, in this article, you will get to know the working mechanism of all types of drawing tablet pens. Let's explore in detail.
How Do Drawing Tablet Pens Work: The Working Mechanism
A drawing tablet pen is made with a metal tool and rubber tip which is used to play games, write or draw on touchscreen devices.
First and foremost, you have to know about capacitive screens function, if you want to know how pens work. Because most of the screens are made with capacitive technology.
An insulator divides two electrical conductors in a capacitive screen.  It refers to contracts through electricity. Electricity can be conducted in the human body.
Electrical properties charge fingertips that are able to alter capacitive screens. Two resistive touch screens require pushing together two conducting layers which makes a successful contract. This resistive screen is pressure-based.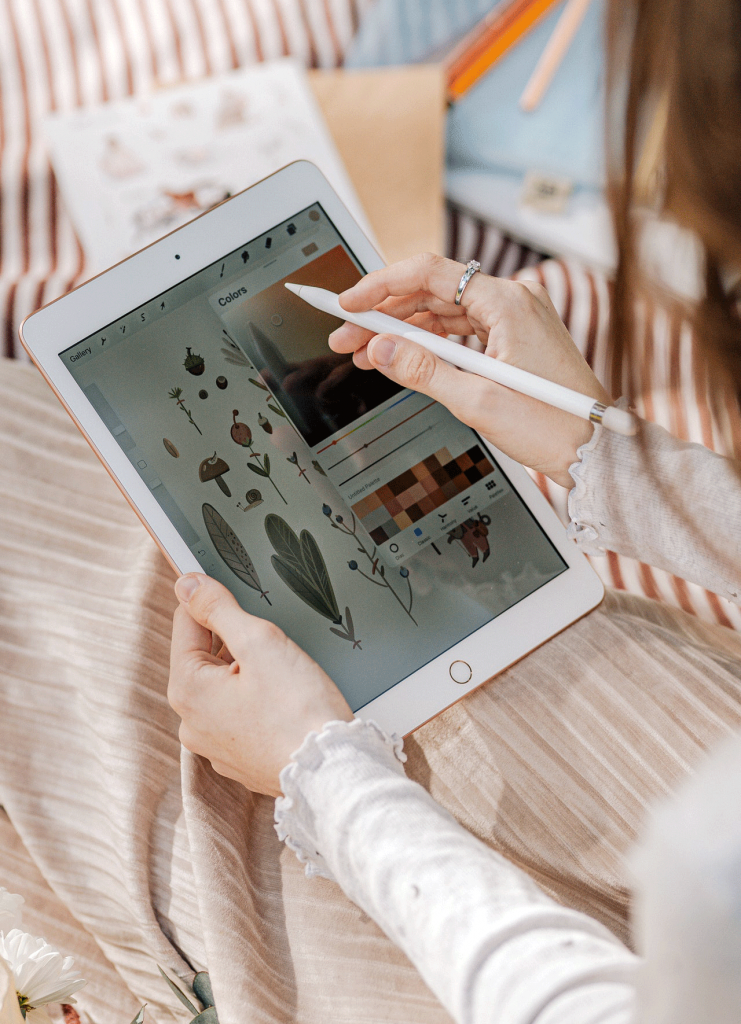 Types Of Pens Available On Market 
Capacitive pens– This type of electrical pen functions like your finger exactly. 
Some pros and cons of capacitive pens are as follows:
Capacitive pen is easy to create your own drawing.
They don't need battery power for all functionality.
These pens are compatible with all kinds of capacitive screens.
The pens can not differentiate the stylus from the hand.
They lack pressure sensitivity and also additional functionality.
Wacom pens – This type of pen is mainly used for graphics tablets. It is ideal for artists and engineers. 
Some pros and cons are given below: 
This pen has some special features like right click, erasers, capability and so on.
It enables unnecessary rejection. 
The pen also has a keen pressure sensitivity. 
It has limited capability. 
The price is comparatively higher.
Bluetooth pens – This is the most advanced technology in the market till now. This type of pen is similar to capacitive, but it has more additional features. 
Some pros and cons are given shortly :
This one is a wireless transmission system.
It has shortcut buttons.
This also has a wide range of compatible options.
It is more expensive.
Bluetooth pens need battery power.
It also needs a pair for full functionality.
Now you can make your decision what types of pens are required for your tablet.
Drawing Pens Can Do The Following Things
Take notes– It helps you not to worry about your journals or wasting papers. 
Respond to writing-It is anything that makes it easy rather than texting with fingers.
Play games– these are easier and more interesting.
Draw– You can art anything on a tablet which helps to be accurate.
Mark calendar– You may keep track of any date, doctor's appointment, birthdays, and so on.
Download apps– The latest and greatest apps can be downloaded via stylus pen.
Post on social media– A stylus helps you to post on social media activities.
Shop online– Users can shop online easily via pen.
The pen is also used to magnify web browsers, sign or edit documents and so on.
How To Activate And Use The Pen On Tablet
1. You have to use the provided USB to connect the pen to the tablet if the pen is a wired system. 
2. Install apps that will support the tablet to activate.
3. After installing the driver, you have to click on "restart now".
4. Once your tablet is restarted, this will help you to browse your tablet.
You have to follow these steps if you want to use tablet pens on a tablet screen.
What Are The Benefits Of Using Tablet Pens?
Nowadays, screens are being updated and larger technologies. So your fingertips can not control or accurately contract easily.
Some of the most important benefits of using a tablet pen are given below.
Pens are easy to use- All users' fingers are not the same in size. So it is very clunky, bulbous, and difficult to access. That's why pens take the place.
The interesting thing is if you have never touched or seen a tablet pen before, you can perform basic functions with it. It is like holding a pencil. It also works the same as a pencil.
Beneficial for handwriting notes– It is really very difficult to write any articles or journals for a long time via finger touch. Drawing tablet pens allow you to write cursory and accurate sentences. You can also write for a long time easily without letter mistakes. 
Perfect for any weather – In winter or cold weather, your fingers are just frigid. This is why it is difficult for you to use your fingertips. But no problems occur in tablet pens in any weather. Thus, you can use them in cold or warm weather.
Using pens is more hygienic from viruses – Pen keeps the tablet free from smudge than a finger can ever. It also keeps your tablet screen clean. You can avoid the dirt or virus from the payment stations which are public touch screen machines by using pens.
Pens can be used on any size screen– It doesn't matter how big or small the size of your tablet is when you are using a tablet pen. You can not work perfectly on screen by using direct finger touch. 
I think you have enough knowledge now on the importance of using drawing tablet pens.
What Is The Lifespan Of A Stylus Last?
Different kinds of the stylus are different from others in terms of lifespan. Normally you can expect six months to one year. Expensive brands may last longer than one year. But you have to check quality, review, price, flexibility, and warranty before shopping.
Some Best Pens For Tablet
| | | |
| --- | --- | --- |
|             Name | Compatible with  | Price |
| ZAGG- Pro stylus  | iPad 9.7(6th generation), iPad mini 5, iPad Pro 11, iPad 10.2 (7th generation), ipad air 4 | USD 49 |
| Maylofi stylus | iPhone, iPad, Samsung, android smartphone | USD 16.99 |
| Yacig capacitive stylus | universal touch screen device | USD 12.98 |
| Penyeah stylus pen | Stylist for laptops, iPhone, tablet, iPad | USD 11.95 |
| Mixoo stylus pen  | Capacitive touch screen, iPhone, tablet, iPad | USD 8.06 |
FAQ
How Do Drawing Tablet Pens Work Without Battery?
Well, here is the mystery revealed. The pens' copper coils receive the waves and convert them to electricity. This energy is used to record pressure and button pushes and send them back to the tablet as EM waves.
Why Is My Drawing Tablet Not Working XP Pen?
Because you may have missed following these instructions. Check 1: Charge the Pen/Tablet entirely. Check 2: Restart your tablet and reconnect your Pen
Check 3: Change your tablet's USB port if it is necessary to see whether your Tablet works.
Can You Use Any Pen On Any Drawing Tablet?
Tablet pens are compatible with all types of tablets. You can use a capacitive stylus with any device that has a capacitive touch screen. Moreover, when using a capacitive stylus, you won't need to recharge it or replace its battery.
Verdict
Definitely, a stylus pen is helpful and beneficial for tablet users. So tablet users should know how drawing tablet pens work.
I think now you are well known about how tablet pens work. However, you can enjoy tablet pens to make it easier to use.