Last Updated on February 1, 2023 by T Mehedi
Do you have an old nook tablet? Are you interested to know what you can do with your old nook tablet device? 
Well, there are many things that you can do with an old nook tablet. You will be able to turn the nook tablet into an android tablet. Moreover, you can recycle the device by taking some easy steps. 
So, let's learn many more ideas on what to do with old nook tablets without wasting any time. 
What To Do With Old Nook Tablets
Barnes & Noble constructed the nook tablets. It has both functions as an e-reader and tablet computer. However, though a nook tablet device gets old and is no longer comfortable to use, you can still use it for multiple purposes.  
Let's explore more. 
Turn The Nook Into An Android Tablet
By taking some easy steps, you will be able to make the nook tablet into a very well and effectively functioning android device. This turning process is well known as the rooting process. 
However, you will get a traditional tablet experience in this way. And most importantly, your nook tablet will be a fully working android tablet. 
Let's learn the rooting process.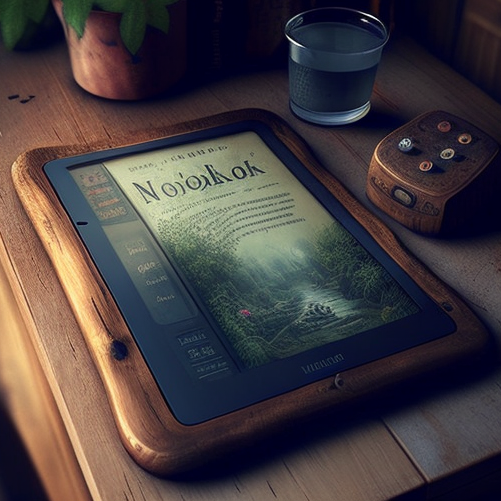 Needed Equipment
You have to arrange some necessary pieces of equipment to run this process faultlessly. 
An old nook tablet 
A personal computer
Good internet connection
MicroSD card
Image files
Try to arrange these components and then move into a step-by-step process. 
Upload The Android Software
At the very beginning of the rooting process, you have to upload the android software to the MicroSD card. 
Firstly, download the necessary application to manage and install the operating system on your PC.
Place the SD card in the computer.
Now, select an image and the file of the android software.
Then, place them into the SD card. 
However, you can also use an N2A card in this process. The use process of an N2A card is much easier than the microSD card. 
You just need to purchase an N2A card and then jump into the next step. 
Place The SD Card In The Nook Tablet
Now, you have to insert the microSD card into the nook tablet's card slot. Try to place it very gently. 
Power On The Device
Now power on the device. If you use an N2A card, then you will find two options while opening the device to boost it. The two options are the Nook operating system and Android operating system. Select the Android operating system. 
However, you have to repeat this each time you power on the tablet. 
But while you are using the rooting process, you will find the Let's Get Started option after powering on the nook device. Now simply install the OS files on the nook tablet. 
After successfully installing, your nook tablet will gather the functions of an android tablet. 
Sell Your Old Nook Tablet
It is possible to sell the old nook tablet. Many local companies buy the old nook tablet. After buying, they add extra functions to the device or recycle it. 
However, contact a company near your location and sell the nook tablet that is useless to you.
Recycling The Nook Tablet
When you are intended to use your nook tablet no longer, you can recycle it. This process will prevent the wasteful use of the device. Moreover, it is a very functional process to prevent environmental impacts. 
Now go along with the following steps to recycle your old nook tablet. 
Deregister Of The Tablet
Deregister is the initial action of recycling. Select the deregister and erase button on your tablet. Now tap on the reset nook option. By doing this, your personal information, apps, and all other data will disappear from the nook tablet device. 
Hand Over The Nook To Recycle It
After deregistering, you have to hand over your old nook tablet to a recycling agency. To accomplish this work, you may contact the Electronics Manufacturers Recycling Management Company. 
However, you may also contact the local or state agency to recycle your device. 
FAQ
What can you do with an old Nook Tablet?
If you no longer need your old Nook, there are a few options. The first option is to put it online on platforms like eBay or Amazon and sell it. Secondly, the Nook Tablet is a gadget that may be given away as a present. As these types of tablets can store books and magazines, you can read them in your free time.
Can you update an old Nook tablet?
Of course. The process is quite simple. Just click Software Update on the Nook you wish to update. Then you will be taken to the page for your device that needs to be updated. There is a button that indicates "Get Updates Today." Now, just click on "Click Here."
Is my nook obsolete?
Barnes & Noble has declared that most of its e-readers would stop working after June 29, 2018. Unless you download a necessary security update, you will be unable to make purchases or manage your NOOK Content from your NOOK Device.
Can I still download books to my Nook?
As long as you haven't erased the eBook from your Nook Library, you may access it and download it as much as you like.
Are OverDrive and the iCloud library application still available on Nook tablets?
Since the closing of the B&N app store on March 15th, 2016, Barnes & Noble has stopped supporting these older NOOK tablets. As a result, OverDrive and Cloud Library applications will no longer be available for download or update on NOOK Color and NOOK Tablet.
Does a Nook tablet need to be updated?
A security update is required for older Nook Tablets. To maintain the functionality of an older Nook e-reader or tablet, it is necessary to ensure the software is kept up-to-date.
Can you read Amazon books on the Nook?
First, get Google play store on the Nook tablet. Then download the Kindle Book app onto it to read your Amazon books on your Nook e-reader.  Now you may read Nook and Kindle e-books on your Nook tablet.
Verdict
Nothing is useless in this world. So your nook tablet device can be used as an android tablet. So I think you are able to do many things with an old nook tablet device. 
However, I hope you have got the expected answer to the question of what to do with old nook tablets. Now, choose an option that will be best for you. 
Good luck!