Last Updated on May 9, 2022 by T Mehedi
Samsung brand has been bringing new models to the market each year with more promising features. These new tablets are attracting people and making them buy new ones despite having the old ones.
If you are someone who already uses a Samsung tablet but wants to try the latest Samsung model, then you may want to know how to transfer data between Samsung tablets?
Well, you can transfer data from your old Samsung tablet to the new Samsung tablet via a smart switch. All you have to do is go to your settings and find the smart switch option and then transfer your data by connecting both the devices through the smart switch.
Let's explore more details.
How To Transfer Data Between Samsung Tablets
Samsung tablets are user-friendly because their features are easy to use. When it comes to transferring your data from one Samsung tablet to another, there are two main options. These are: 
1. Transfer data through a Smart switch
2. Transfer data through the Samsung cloud
These options allow you to transfer your data from one tablet to another quickly and smoothly.
Let's know how you can transfer your data using these two options.
Transfer Data Through Smart Switch

Using a smart switch is the most effective and easy way to transfer data from one tablet to another. Using the smart switch, you can literally transfer everything. That means you can copy the whole device to the new one. 
You can see the meaning of smart switch in its title which means to switch or transfer your data smartly. Here's how you can transfer your data from one tablet to another via a smart switch.
Step 1. On the new device, find the smart switch. Your new tablet may not have it. So you have to go to Play Store and download from there. Do the same thing on your old device.
Step 2. Install it on both of your devices and then launch it. Click on Agree button if you agree with all terms and conditions.
Step 3. Select "Send" on your older device and select "Receive" on your new device.
Step 4. Select how you want to transfer the data. Select the "wireless" option if you do not have the cables.
Step 5. Tap on the type of device from which you are transferring data and then connect.
Step 6. On your old device, select the data you want to transfer and then tap Send. You can send everything by selecting all.
Step 7. On your new device, tap on Receive.
That's it. It only takes a few minutes to transfer your data. Once the transfer is complete, tap Done on both devices. 
You can also send your data by selecting the 'cable' option and simply connecting the cable to both devices. Using a cable will make your transfers faster than the wireless option.
Transfer Data Through Samsung Cloud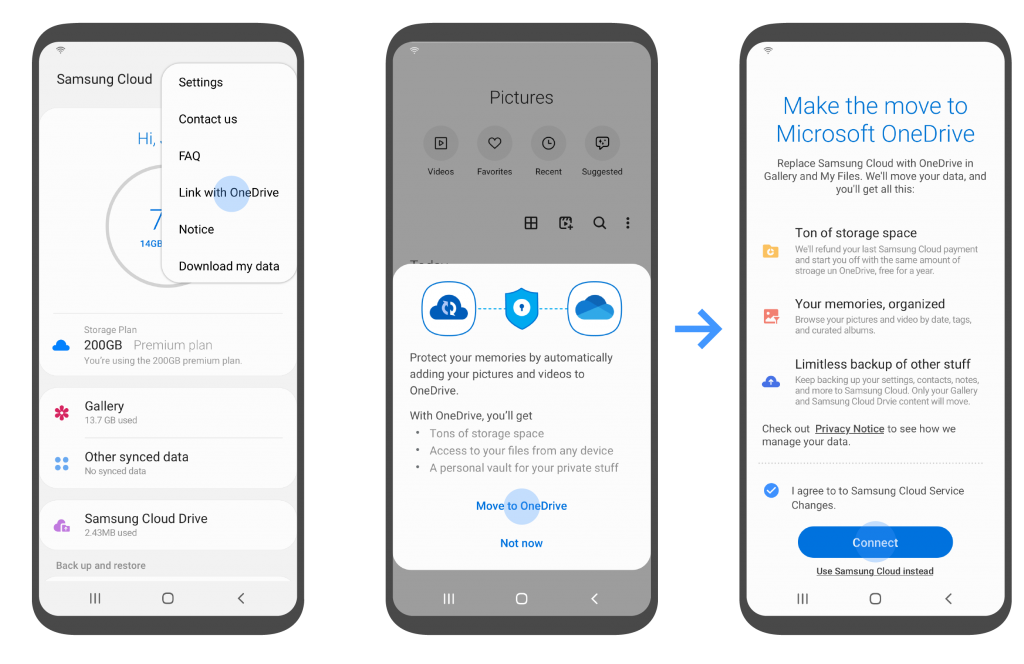 Another easy way to transfer your data is through Samsung Cloud. In this case, you need to back up your data to Samsung Cloud from your old device and restore the data to your new device. 
You must have a Samsung account in order to use Samsung Cloud. Let's see the process.
Back up your data:
1. On older devices, sign in to your Samsung account. If you do not have an account, register first.
2. Go to setting. Find the backup option and tap back up
Restore your data:
1. On the new device, go to Settings and find Cloud and Account. Then tap on Samsung Cloud.
2. Choose the Backup and Restore option, select the device from which you want to recover data, and restore your data.
You can use Samsung Cloud to transfer data to any Samsung device anytime, anywhere. All you have to do is log in to your Samsung account and follow the procedure given above.
Turn on the sync option to automatically save your data to your Samsung Cloud. It will help you to access data easily from other devices. 
Verdict
Samsung users are always keen to use the new devices that have come in the market recently. But they are worried about how they will transfer all their data to the new device.
However, you do not have to worry about this anymore, because we have given all the instructions about how to transfer data between Samsung tablets.
I'm sure you'll be able to transfer your data by following the steps above. 
Thank you.