Last Updated on May 27, 2022 by T Mehedi
Tablets are of great use nowadays. They are much more portable and lightweight. So, a tablet can be carried and used anywhere even while a journey.
But as the files and apps nowadays are larger in size than ever before, we often face issues regarding storage capacity. To solve this problem, you can use an external hard drive. But first, you need to know, how to connect the external hard drive to an android tablet.
You can connect an external hard drive with a tablet, simply by using an OTG cable if your tablet supports it.
Generally, the internal storage for most mid-budget tablets is limited, rather in some models, an external SD card is also not compatible. In that case, there remains no other option than using a portable hard drive. But remember, not all Android tablets support this feature.
Let's explore more
How To Connect The External Hard Drive To An Android Tablet?
First of all, an external hard drive is a portable storage medium. Its capacity can vary from 32/64 GB to 1/2 TB. Even some years, tablets were not able to be connected with an external drive without being rooted.
But now, this problem is solved. If your device supports OTG which stands for the "On the go" feature, you can connect the hard drive by following some simple methods.
So, without further delay, let's see those steps in detail:
Check Whether Your Tablet Supports OTG:
As I've mentioned earlier, your device must support OTG to use the external hard drive. You can simply check it from the website of your device brand. In the configuration part, you can find the details. In most modern android tables, it is a very common feature.
Also, you need to check the cable port to determine what type of OTG cable you will need. It may be a type-C cable or a USB-B. Just make sure you use the right one.
Completing The Connection:
After you have selected the right type of cable, now it's time to connect the hard drive. If you're using a recent model tablet, your cable may be of type-C on one end and type-A on the other.
Just connect the type-A part to the hard drive and the type-C part to the device. Sometimes, you may be needed to connect a power cable with your hard drive to power it on. But that may depend on the model of the hard drive as well as the tablet.
Browsing Files:
If your connection is perfect, you may see a pop-up notification depending on your tablet model. For example, if you're using a Samsung tablet, after competing for a working connection, the file manager will open automatically.
In the file manager, you can see the hard drive. If there are any existing files, you will be able to check them out. Sometimes, it may ask for permission before accessing the hard drive. In that case, just proceed with that.
And thus your external hard drive will be ready to be used on your android tablet.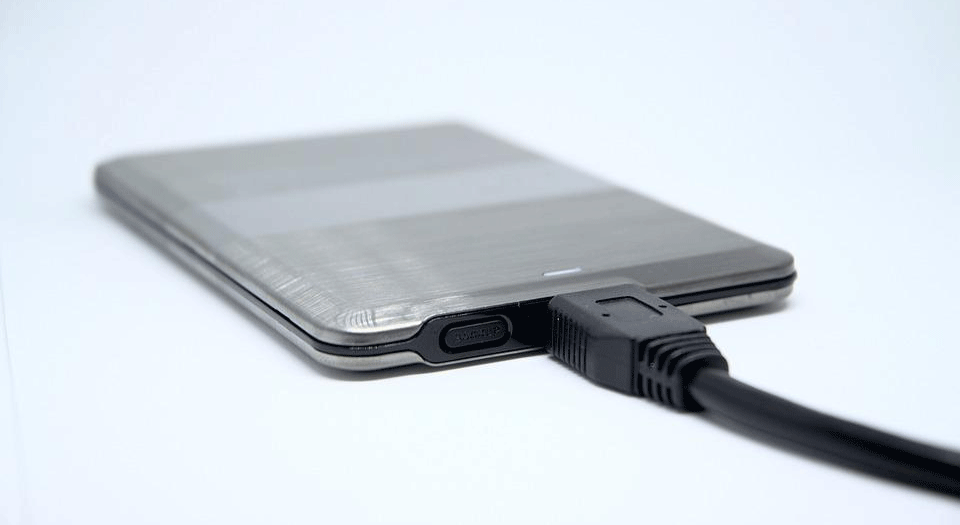 How To Unmount External Hard Drives?
Unmounting an external hard drive is another thing you need to be careful about. If you do it wrong, it may hamper your files in the hard drive as well as the hard drive itself. So, some processes should be followed.
First, check whether any file from the hard drive is opened in any app. If yes, don't forget to terminate the app. Also check, whether there is any file transfer taking place. Because unmounting your hard drive will stop the process and may hard the drive too.
In some tablets, there will be an option in the notification panel about the hard drive. By clicking it, you may see another option to unmount it. Tap on that and wait for the confirmation.
You can see a message which tells that your hard drive is ready or safe to be unmounted. Just after that, disconnect the cable from the tablet and from the hard drive as well.
Conclusion
Tablets are so popular these days, because of their versatility of usage. But if storage is a problem, it may cause an unpleasant experience.
So, if you know how to connect an external hard drive to an android tablet, you can easily extend your device's memory. And f course, you can carry all your required files within a portable hard drive and can access them anywhere with a tablet.
But sometimes, you may face some lag using your tablet while being connected to a hard drive. Using the latest operating system or flagship tablets may solve this issue.