Last Updated on May 7, 2022 by T Mehedi
Updating tablets regularly is a good practice. Most of the modern tablets normally update themselves automatically under a proper internet connection. But, that may vary from device to device and with OS.
The latest model of Dragon touch tablet comes with Android 8.1, Oreo operating system. But if you're using an older version, you may face some issues. So, to have the best user experience, it's always wise to be updated with the latest OS.
Here in this article, you're going to know, "how to update Dragon touch tablet". As many of the users face problems when updating their devices, we've come up with a step-by-step solution to update your tablet.
So, without further delay, let's jump into it.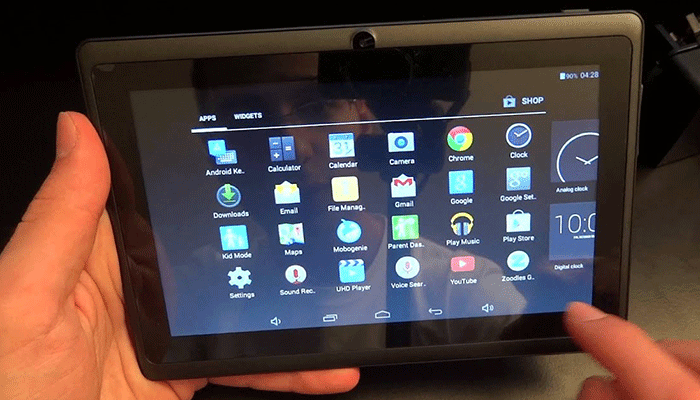 How To Update Dragon Touch Tablet?
If your tablet has a stable and continuous internet connection, it should be updated automatically. Of course, you have to enable the auto-update feature in that case. Also, you can follow some manual processes which I'm going to discuss now.
Depending on what OS version you're using currently, the processes or instructions may vary a bit. But the main steps are almost the same for every device.
Method 01:
This is the most common and easiest method. It can be applicable for almost any Android tablet or mobile device. Just follow these simple steps:
Tap the "Settings" option on your tablet screen. It may be a gear icon that indicates settings.
In some older versions of OS, the update may be an independent option seen on the very first or last section of settings. In recent versions of OS, just navigate to "About tablet".
Inside this menu, you may see "Software update". Tap on this menu and check for available updates. You must keep your internet connection on during this process. If any updates are available, they'll be displayed on the screen.
If you don't see any updates, then maybe your tablet is fully up to date. But if you see an available update, click the "Download and install" option.
It'll then start downloading. After completing this, the installation will be started too. It may take some time to install and reboot your tablet. When it's done, your tablet will be ready to be used.
Method 02:
If the above method doesn't work, then maybe there are some problems. So, automatic update is not a solution for you. In this case, you can follow an advanced process of installing updates. Follow these steps when you're ready:
First, check on the internet for the updated software version for your tablet. There are plenty of sites that offer to download Apk or Zip files. But you should be very careful about viruses or unwanted files while downloading. I'll recommend using antivirus on your PC as a solution to this problem.
After downloading, transfer the file into an SD card and insert it into your tablet.
Then reboot your Dragon touch tablet in recovery mode. You can do it by simultaneously pressing the "Power" + "Volume up" button. Then, select the option named, "Install updates from external storage".
Hopefully, your tablet will start updating its OS. Otherwise, you can use a PC and connect your tablet with the PC. After that, by using SP flash tools, you will be able to update your tablet. But for this, your PC must have installed MTK drivers.
Things to be Remembered:
You may face some issues while updating your tablet. So, to have a clean and safe update, you should be concerned about the following instructions.
Sometimes, having less storage may cause failure in the updating process. So, you should clear the cache and unnecessary files while updating.
Make sure your device is fully charged or plugged in. Because the tablet must be on while updating. If it gets shut down during the process, it may cause data loss. So, make sure you have enough power backup.
Your device should have a stable internet connection. If there are any issues regarding the network, it can affect the whole process and the updating may fail.
Try to use backup for your data. This will ensure the safety of your personal data in case of any unwanted incidents.
By following these practices, the risk of failure decreases a lot. So, you should keep those in mind.
Conclusion:
You may face lagging or your tablet may slow down if you don't update your device regularly. Though most mid-budget tablets get one or two updates in their lifetime, you should not neglect it.
If you know how to update Dragon touch tablet, you can be free from those hassles. Updating tablets ensures a secure and fast user experience. Also, updates come with a variety of new features and solutions.
So, I would suggest keeping your Dragon touch tablet updated always. As from this article, you know the procedures, now it's a matter of time only.