Last Updated on October 23, 2022 by T Mehedi
Huion tablets are so popular among digital artists because of their super performances. This Chinese brand is making graphic tablets since 2011. And recently, they are offering more advanced and high-end graphic tablets.
To get the most out of this, you must know how to use the Huion tablet. So, here I'm going to guide you through the setup procedure to drawing step-by-step.
And you don't need any prior experience to use these tablets. All you need to have is a PC and a Huion tablet setup and you're ready to go.
How to use Huion tablet?
Using a Huion tablet is simple. If you're using a smartphone or PC, then a graphic tablet is just another normal device like this. All you need to do is just follow the instructions given here.
I've divided the total procedures into two parts. First, set up the tablet with a PC and then, start drawing. You can skip to the next if you've already done your setup.
Otherwise, go with the flow:
Setting up the tablet:
First, connect the tablet with the PC. If there is a Bluetooth connection available, go with it.
If you're using a version 14 driver, you'll see "work area". By navigating to it, click "Select current display". To identify screens, you can click the "Identify" button.
Then press "Apply" and you'll be ready. If your mouse cursor is on other screens, just drag it on the graphic area.
In the case of the version 15 driver, it's almost the same. Just select the "Pen display" and go to the work area.
Now just follow the previous instructions and it'll be ready.
Start drawing:
Now it's time to start drawing. Here, we'll focus on how to draw on the Huion tablet.
First, open up photoshop or any other programs that you'll be using for drawing.
Select a template or create a new one. When the graphic window appears, select a preferable brush.
Now you can start drawing on the white area of your screen. To change the brush size or color, just right-click on the touchpad or on the mouse and you'll get the options.
In this way, you can start drawing on Huion tablets. But in some cases, you might face some issues. From user experiences, here I'm going to share those problems and the probable solutions for them.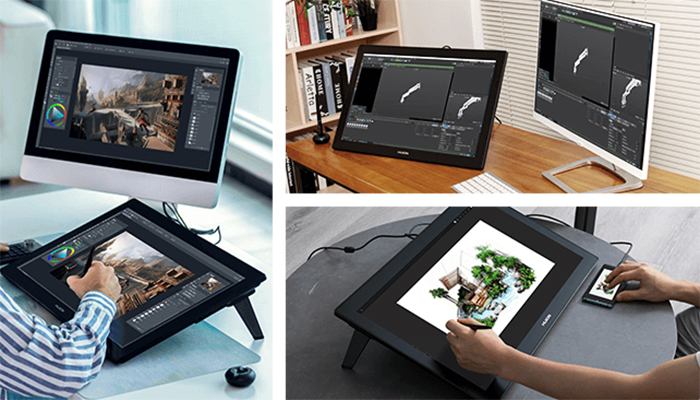 What Problems You Might Face?
Sometimes the pen may not work. It can result from lack of battery charge, or error in PC or in windows. To get rid of this, be sure to check the drivers and install files properly.
Each model of the Huion tablet comes with a specific model of pen. So, make sure you're using the right one for your tablet.
The cursor may sometimes lose if you keep the pen idle for a certain time. In that case, all you need to do is to hover the pen over the graphic tablet area for some time. Then, you can see the cursor on the screen and you can start drawing from there.
This way, you can use your tablet to draw almost anything. But to draw well, all you need is to practice more and more. Let's see why this tablet can be a great drawing device.
Is The Huion Tablet Good To Buy?
Though there is a close competition between Huion and Wacom, both of them are near perfection. Some features may vary from Huion to Wacom, but both these tablets are highly praised by professionals.
All Huion tablets come with a pen with them. It looks like a conventional pen and also feels the same. But of course, it's a stylus, not a regular pen.
Recent models of Huion offer a premium paper-like feeling while using its pen.
In some new tablets, the distance between the writing/drawing surface and the screen is so small that it almost feels like drawing on real paper. The texture is maintained this way.
So, undoubtedly, you are going to enjoy the experience.
Conclusion
As we're moving from paper to device more and more, graphic tablets are becoming more popular. And among all the mid-budget tablets in the market, Huion is one of the best.
If you know how to use Huion tablets, you can draw almost anything with them. And eventually, you will be as comfortable as you're with real pen and paper.
So, keep practicing. Because that is what makes a man perfect.