Last Updated on July 21, 2022 by T Mehedi
You have been looking for a tablet which has all the features. So you also may have a question that "do tablets have Bluetooth".
Obviously tablets have Bluetooth Like other devices have. Tablet Bluetooth is used to attach other tools such as keyboards, headphones, robotic mice, printers, speakers. Most importantly, you can share photos, videos, games, etc with other devices without cable over a short distance.
You can enjoy those benefits from a tablet with Bluetooth. Don't break down here. Take a breath and let's start exploring more!
Do Tablets Have Bluetooth: Everything You Should Know
The Bluetooth feature has been added to the tablet for transferring voice, video, music, and information.  It even helps data transfer between paired accessories.
As Bluetooth is the most important feature for any device, that's why Bluetooth has been added to tablets. Probably every tablet has Bluetooth. But different tablets have different Bluetooth systems found in different positions.
If you have an android tablet, you may have seen it on the home screen settings app. Open it and choose Bluetooth. 
But if you have a Samsung tablet, you need to go on the connections tab in the settings app. then you will see the Bluetooth screen.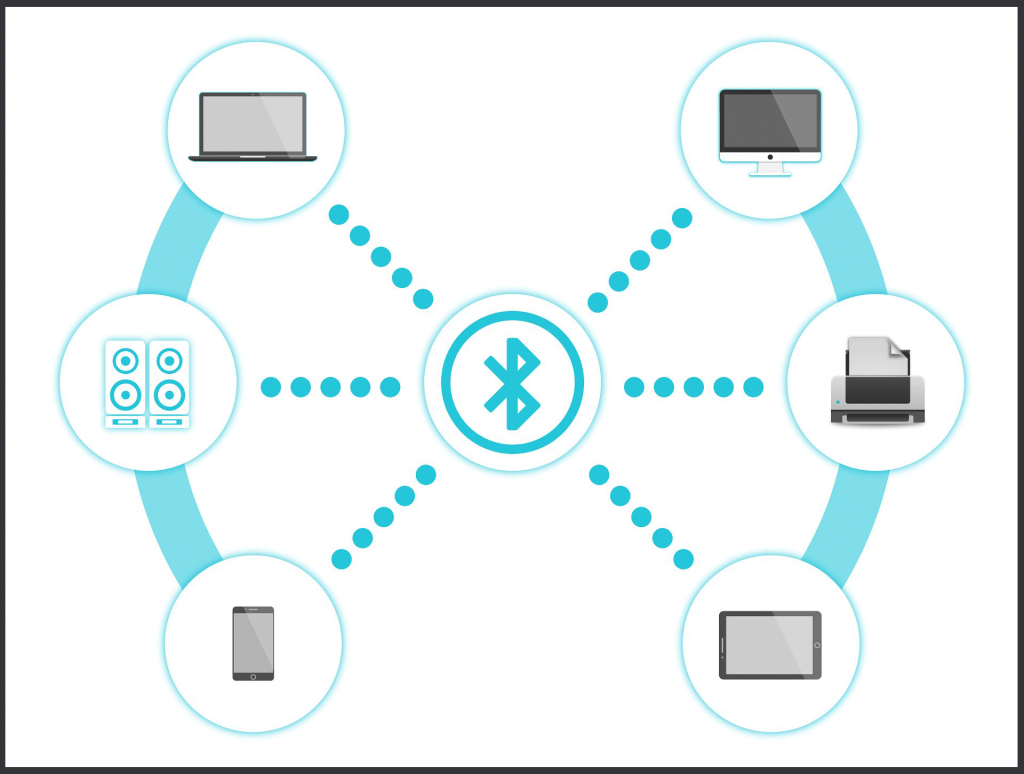 How To Connect Bluetooth Of The Tablet With Other Devices
If you don't know how to connect Bluetooth, you should follow some steps given below.
Switch on bluetooth on your tablet or intended device. You can find a bluetooth app if you have an android tablet, otherwise, in the case of a tablet of another operating system, in the connection tab.
Pair both devices by choosing bluetooth devices from the list.
 Send an input code, password or press a button to confirm the connection. 
It has now an activated connection  between both devices. Now you can use the device.
After using both connected devices, you should unpair the device or switch off Bluetooth to your tablet. Otherwise connected devices will reconnect automatically the next time.
What Are The Benefits Of Using Bluetooth?
Bluetooth is the technology which is a wireless system used to share data (like video, audio, chatting, picture), print the document and images. But the printer must support your Bluetooth device.
Because of wireless communication systems, it is a completely different communication system. Nowadays, many vehicles allow Bluetooth for favorableness.
On the other hand, it uses radiofrequency by low power at low cost. It consumes very little energy. As it does not need any routers or modems or additional network equipment to communicate with multiple devices. That's why it is beloved by all users.
You can use your tablet's Bluetooth to make PDA, cell phone, car stereo, AC, television, laptop, and so on connected to each other over short-range. Because the transmission range of Bluetooth is about 30 feet. You can also share an Internet connection to the paired accessories.
How To Reset Your Tablet Bluetooth
If your tablet Bluetooth looks something wrong to pair and you are using an android tablet, you need to reset Bluetooth before connecting with another device. Reset your Bluetooth by following the steps.
Open the "setting" and apps of the bluetooth device.
Click on bluetooth share.and press " Force to stop".
Press "clear all data" and turn off bluetooth.
Turn on bluetooth and pair with the intended device again.
Now you can use Bluetooth newly by connecting the device.
How Tablet Bluetooth Can Pair With Multiple Accessories
If your tablet is android or not, your tablet Bluetooth can be paired with various accessories. But the android tablet pairing system is different. However, those steps will assist you to pair with multiple devices.
Swipe up or down your tablet screen to access.
Find out the bluetooth icon.
Tap and hold it.
Swipe the switch and set the pairing mode.
Previous paired devices and also new devices will be shown to your tablet.
Choose all the accessories which you want to pair from available devices.
Some devices do not allow it without a passkey or code. So, put the code, and then your Bluetooth may be paired.
List Of Top-ranked Tablets With Bluetooth
Name
Features
Price [USD]
1. HP-11″ touch screen
64GB eMMC, 8 GB memory
shade gray and natural silver
light enough, flexible design in
keyboard and
kickstand, long battery life.
599
2. Tab M10 FHD plus- Lenovo tablet
Iron gray, 64 GB
modern simplicity
dual speaker
10.3″ screen
199.99
3. iPad mini (latest version)
256 GB, pink, with wifi
8.3-inch liquid retina display,
USB-C connectivity
649.99
4. All-New Fire HD
10.1 inch, Olive, 32 GB
fast, 1080p full HD display,
bright, responsive
99.99
5. Galaxy tab S7 FE
128 GB, with wifi, 12.4 inches,
mystic pink proper balance
between play and study time
469.99
6. iPad Pro (latest model)
wifi, 128 GB, silver, 12.9 inches.
perfect for editing photos and
videos, 5G cellular models.
1249.99
You can enjoy the excellent performance if you purchase those tablets with Bluetooth.
FAQ
What does Bluetooth do on a tablet?
Bluetooth is a wireless connection that can be used to transfer files or connect to other devices like a wireless headset or keypad. From the top of your tablet, slide your finger down the display. By doing this, you can locate your Bluetooth option.
What is the difference between Wi-Fi and Bluetooth?
Bluetooth is a system that permits you to send and receive data over a short distance between two devices that are connected to each other. Wi-Fi, on the other hand, allows users to connect to the internet wirelessly.
Do Samsung tablets have Bluetooth?
Yes. Luckily it has. It's possible to link your Samsung tablet to a wide range of other gadgets using Bluetooth. Bluetooth headphones are used to avoid the tangled mess of wires on your Samsung tablet.
Verdict
As Bluetooth can connect one device with another, so you can monitor or control your devices via tablet Bluetooth. That's why you have to know the answer to the question " do tablets have Bluetooth ". 
I think you have got your desired information about a tablet with Bluetooth. So you should access your tablet Bluetooth properly now.