Last Updated on May 27, 2022 by T Mehedi
Nowadays, files and apps are so large in size that running out of storage is a very common issue. In that situation, using an SD card (Secure Digital memory card) is the best solution that comes to our mind.
When it comes to Samsung tablets, they provide enough storage as default capacity. But even then, you may face storage shortages sometimes. In that case, you can use an SD card on your Samsung tablet. But there are some steps and instructions for using it properly on your device.
If you want to know, how to use SD card on Samsung tablet, you're at the perfect place. Here I'll guide you through every step of using an SD card. We'll cover everything from inserting the card to transferring and managing files and apps in the card.
So, let's get started.
How to use SD card on Samsung tablet?
There are multiple types of SD cards available in the market. They not only vary with storage capacity but also with other factors.
Types of microSD cards:
MicroSD card: Generally, this card can be capable of storing up to 2GB of data.
MicroSDHC card: The 'HC' here stands for "High capacity". It can be as large as 32GB.
MicroSDXC card: Here, "XC" means "Extended capacity". The storage capacity of these cards can be 32GB to 2TB.
Among each of these cards, there are different speed ratings. It can be anything from 2,4,6,8, or 10 indicating slowest to fastest.
In most Samsung tablets, you can use any type of SD card for storing files or data. For general use, a regular microSD or microSDHC card is enough. Modern SD cards are capable of storing 128GB to 1TB data.
There are a few steps to use SD cards in Samsung tablets. Let's follow one by one: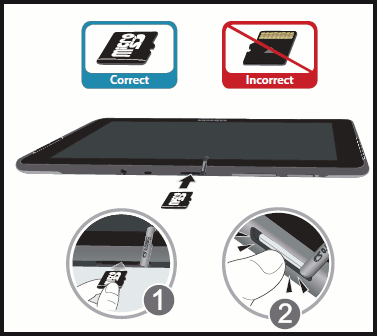 Inserting SD card properly:
The first step is inserting the card into the tablet properly. You can use an ejection pin or any thin and long pin to pull out the SD card tray. After pushing the pin a bit the tray will pop up. Then all you need to do is put the card in the proper orientation.
Then place the tray just like it was before. Make sure the little hole is exactly in the same position as it was before.
After a second or two, a pop-up notification may be seen on the screen. It ensures that the card is ready to be used. By clicking on it you can directly go to the files stored on the card.
Making SD card default storage:
As you're using an SD card, surely you want to put all upcoming files in card storage. So it's time to make the card default storage of the tablet. To make it happen, you need to complete the following steps:
First, navigate to the settings menu of the tablet. On the tablet screen, you can see it as a gear icon.
Scroll to the storage settings menu and open it. Inside this menu, you'll see an option named, "Change default storage". Click on this option.
There will be another two options as "Internal storage" and "external storage". Click on the checkbox of external storage.
Finally, to save your changes, click on the "Save" menu.
All of your apps and files will be stored on an SD card from now.
Transferring files and apps from internal storage to the card:
For files, first, go to Settings > My files.
Select all files you want to move and click on the Move icon.
Then select external storage and you're done.
Pre-loaded apps don't support changing locations. For other apps, just go to Settings > Apps > storage > change storage > external storage.
Now, the app will be moved to an SD card.
Unmount SD card:
To unmount the SD card, go to the Storage setting and tap unmount. Then insert the ejection tool again. Just like the inserting steps, pull the tray. After taking out the card, put the tray back just like it was before.
Conclusion:
Sometimes using an SD card on a tablet may make the device a bit slow. Hence, cleaning the cache and unnecessary files can be a solution to this problem.
Moreover, you must need to be aware of any virus that may be inside the SD card. This can cause serious damage to files and data of both internal and card storage as well.
So, keeping those risks aside, using an SD card is very helpful. And now, as you know how to use SD card on Samsung tablet, so you can extend your tablet's storage right now.